I don't generally read travel pieces, but from time to time one catches my eye... today it was
Richard Eller's piece in The Guardian
:
Uganda's Ssese Islands in Lake Victoria were all but inaccessible for more than a decade. Now a new ferry service is letting the first pioneering tourists discover their soft white sands, blue waters and lush forests.
I've never been to Africa, and have no expectation that I ever will, but I do like learning about the world I live in. This looks lovely...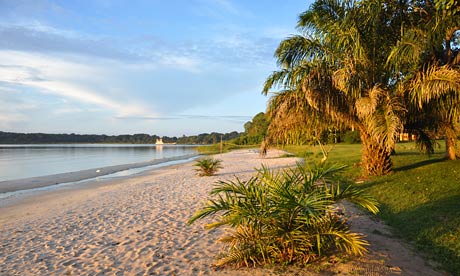 Lake Victoria, Ssese Islands, Uganda Photograph: Nick White/Nile River Explorers
Here's the Wikipedia article
, and here's the Google Earth view:
(Click for full size) There are lots more photos available for viewing in Google Earth... it looks like paradise. Let's get busy
paving
and
mining
!