Iris reacted with
a faceplant on the table to this one
... "Do they not even look at what they're writing and printing?"
Above and below, a couple of succesories from
How's That For a Slice of Fried Gold
? Six more commentator take-downs at the link.
Tee of the day, from
The Daily What
.
This week's great Funnies find was Luke Surl;
here is an example
: (click for larger)
And below is another
. Two others I really liked were the
physics of ice-cold drinks
, and
Shakespearean quadratics
.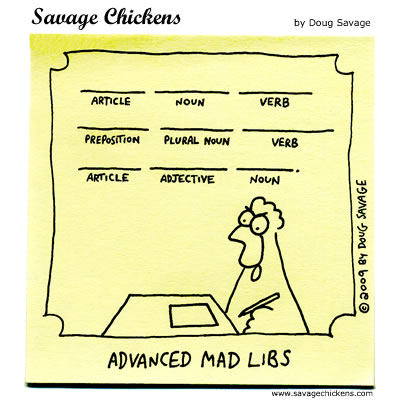 Savage Chickens

From Librabry Grape
, the best fake Obama Birth Certificate EVAR!
see more
Political Pictures
see more
Lolcats and funny pictures
Oddee had a collection of 10 funny doormats
; the above was first, and my favorite.
The Onion had a headline that I was very glad I clicked through on; I'm not a sports person, so typically as soon as I see something to indicate that's the topic, I'm on to the next item. But I knew the high tech swimsuits were an issue, so when I saw Onion was reporting on it, I was intrigued.
Sports: Shattered World Records Credited To New Swimsuits
:
see more
Lolcats and funny pictures
see more
Lolcats and funny pictures
My husband and I were exploring Lake Minnewanka in Banff National Park, Canada, when we stopped for a timed picture of the two of us. We had our camera set up on some rocks and were getting ready to take the picture when this curious little ground squirrel appeared, became intrigued with the sound of the focusing camera and popped right into our shot! A once in a lifetime moment! We were laughing about this little guy for days
(
from Nat. Geo.
via
The Daily What
)
What every home needs: A multi-media washer. Can I get the internets on it?
From Criggo
.
In a comment at the
GraphJam climate change meme
, I found this Toles sketch:
see more
Lol Celebs
see more
Lol Celebs