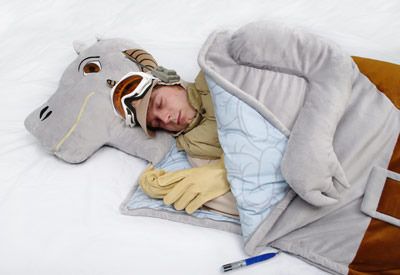 This high-quality sleeping bag looks just like a Tauntaun, complete with saddle, printed internal intestines, and a plush lightsaber zipper pull. That's right. A lightsaber zipper pull. So you can gleefully "slice" open the tauntaun's guts. That's one childhood fantasy down, eh?
I think I posted on this, lo, these seven months past... and if I didn't, I meant to. I had seen the announcement that the go ahead had been given to actually manufacture them. I assume licensing any Star Wars-related stuff is a tedious process. And I had seen (probably at this same blog) that they would be available for pre-order before too much longer. That was a few weeks to a month ago. Now... Ta-Dah!
The Tauntaun Sleeping Bag–once a widely-discussed April Fool's joke and now a highly-coveted retail product–is now available for pre-order from ThinkGeek, just in time for the holiday consumerist binge.
Thanks to Great White Snark
for keeping me up to date on paraphernalia that gives me a giggle, but that I wouldn't actually buy. But I imagine there will quite a number of very pleased kids and kids at heart in the weeks and months to come.