Remember this photo, from a few months back, which won the £10,000 prize for the best wildlife photo of the year?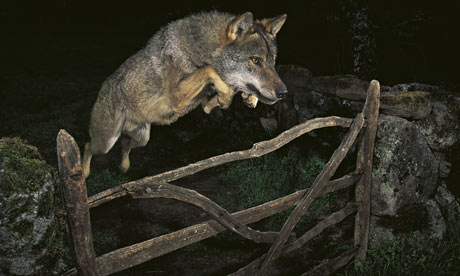 It was staged; the wolf was tame, and
loaned from a wildlife park
.
Also,
you may have heard
,
Scott Brown Wins Mass. Race, Giving GOP 41-59 Majority in the Senate
(Via
Michael Tomasky's Blog
)
Looting in Haiti? Shut your yap. What would you do if you had no food, no water, no shelter, and no expectation that these might show up in the foreseeable future? Would you sit there patiently and watch your family starve or die of exposure and dehydration? Ya think
you
might consider breaking into the local market? Yeah, me too. Would you describe that as "looting", or as "fighting to survive"? Yeah, me too. I'm glad to see
others pointing this out
.
Let's see... oh yeah,
earthquake swarm in Yellowstone
. Everything to the east is going to be blown into the Atlantic, everything else into the Pacific. Tidy. No need for a relief or aid effort. Of course the
so-called "experts"
in their
ivory frigging towers
have
different ideas
. But then they have a vested interest in seeing North America go "foom." Never, ever trust anyone who actually has spent time studying something. Causes bias.
Lockwood is in a pissy mood this morning.