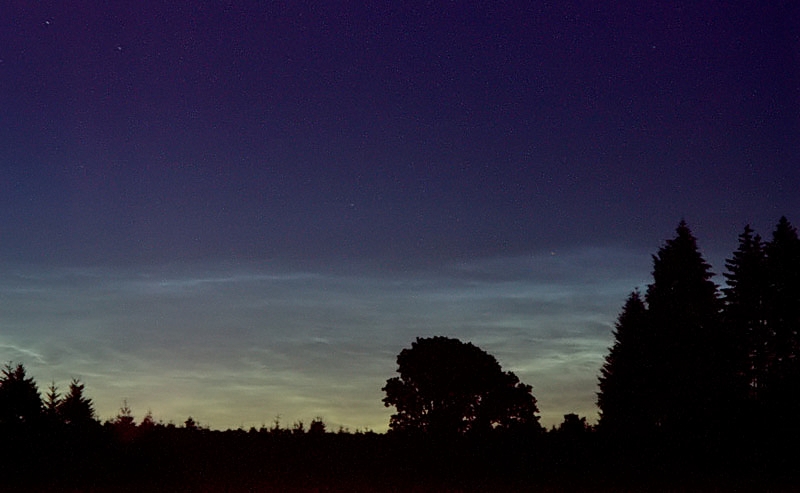 I've never seen noctilucent clouds before, but it's been a phenomenon I've watched for for many years. Guess I should have spent some time outside last night; the above was taken by an old friend just a few miles to the west of my current position. Below is the email from SpaceWeather that alerted me to the outbreak, and the gallery where I found the picture.
Space Weather News for July 15, 2009
http://spaceweather.com

NOCTILUCENT CLOUDS GO WILD: An intense display of noctilucent clouds (NLCs) lit up the skies of Europe and North America last night. Bright electric-blue tendrils were visible through fireworks during Bastille Day celebrations in France, while the clouds descended as far south as Nebraska in the USA. Sky watchers should be alert for a repeat performance tonight. Observing tips and photos of the July 14th-15th display may be found at these URLs:

Europe: http://spaceweather.com/nlcs/gallery2009_page12.htm

USA: http://spaceweather.com/nlcs/gallery2009_page13.htm

Please visit http://spaceweather.com for updates.

You are subscribed to the Space Weather mailing list, a free service of Spaceweather.com.

New subscribers: To sign up for free space weather alerts, click here: http://spaceweather.com/services/.
Noctilucent (night light) clouds are very high elevation clouds.
According to this source
, "Although NLCs look like they're in space," continues Thomas, "they're really inside Earth's atmosphere, in a layer called the mesosphere ranging from 50 to 85 km high." The lower atmosphere is called the troposphere. The next layer is the stratosphere; jet liners typically fly near the bottom of that layer. The mesosphere is the
next
layer up. Generally speaking, "weather" (which would include clouds) is thought to be a phenomenon pretty much restricted to the troposphere. See the link for more info, but be forewarned: we really don't know much about them and how they form. At any rate, I'll be spending some time outside after dark tonight.