Alright, ladles and jellyspoons, two editions of Sunday Funnies this week. The Boxing Day edition is focused on Christmassy themes. At the same time I was going back looking for Yuletide funnies, I was also putting together the regular Sunday Funnies, which I have saved and will post tomorrow after I tack on any other giggles that come up in the next 18 to 20 hours. Also too, I'm trying to separate out political humor from the Sunday Funnies, which may lead to another weekly funnies aggregation. We'll see. But as always, this blog is pretty much ad hoc, flying by the seat of my pants, and I'll do whatever I darn well please with it.
see more
Funny Graphs
The Saturday Bulletin
The true meaning of the Holidays, via
Criggo
.
Christmas is ruined. The terrorists have won. Via
BuzzFeed
"I have nothing against the little drummer boy. I just wish he'd learn a new song."
From
Shoebox
Medium Large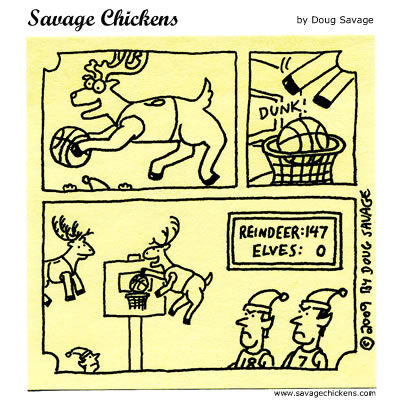 Savage Chickens
Luke Surl
This is my life... via
The Daily What
.

xkcd
see more
Lolcats and funny pictures
I skip more videoclips than I watch, but the "engineers with cats" series is almost always worth the time; this one is no exception. (Spoiler: Pew-Pew-Pew) Via
The Daily What.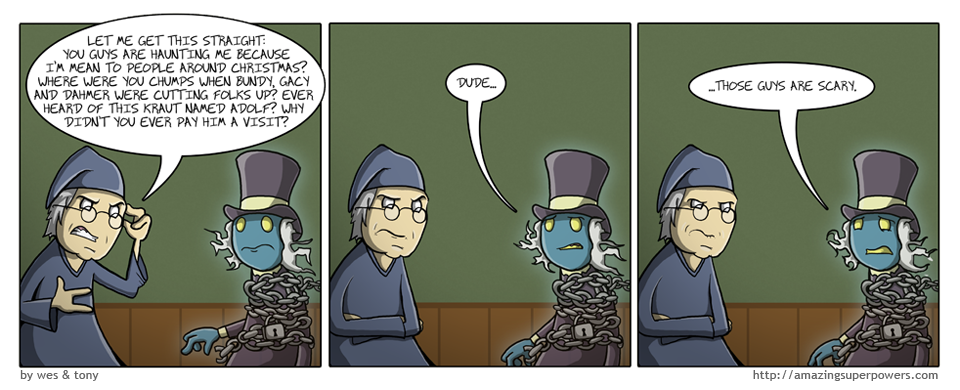 Amazing Super Powers
(click for readable)
Tree Lobsters
... finally, an explanation that makes sense.
Luke Surl
's Surveillance Santa Society
Saturday Bulletin
I'm planning on being very, very naughty so I can get a sample of coal next year. (Anthracite, please)
Criggo

From
Not Always Right
, a compendium of anecdotes demonstrating that the customer isn't. Poor kid. I can relate.
(Mall | London, UK)

(I am the elf at a Santa's Grotto display in a shopping centre. A very well-dressed, eloquent boy, no older than 5, sits on Santa's lap.)

Santa: "Merry Christmas, young sir! Have you been a good boy this year?"

Boy: "Oh yes, Santa! I've been extra good all this year because mummy and daddy said if I am extra good, I can have whatever I want!"

(Santa looks up to the smiling parents, who are nodding approvingly.)

Santa: "Well, it does seem you have been EXTRA good this year! What would you like?"

Boy: "Angelina Jolie."

(Santa looks again at the parents, who continue to smile and nod like this is a standard request.)

Santa:"You'd like Angelina Jolie for Christmas?"

Boy: "Because I've been extra good!"

Santa: "I'm sorry little guy, I don't think she would fit in my sack."

Boy: "Oh don't worry, I don't want Brad Pitt. You can give him to someone else!"

xkcd
Fellow Oregon blogger Fran
posted this clip of a kitteh getting the scare of the season... I've already watched this a half dozen times, giggling at each jump. In a similar vein...
And finally, not so much funny as whimsical (but I laughed),
The Big Picture has 42 snowy scenes
that warmed the cockles of my heart down to my frozen toes.